Zachary Quinto is the New Spock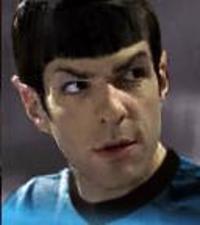 The rumors are true: Zachary Quinto from Heroes is the new Spock.
Along with his other announcements at this weekend's San Diego Comic Con, J.J. Abrams — who is producing the latest Star Trek big screen outing, a prequel to the Original Series — made clear that Quinto had the role. Judging from the photograph above, it seems to suit, although I prefer my Spock a bit sterner looking.
Abrams also addressed the rumors that William Shatner wasn't in the script. "We're desperately trying to figure out how to fit Shatner, and it needs to be worthy of him and the movie," said Abrams. It's unclear whether or not they are simply trying to cram him into the movie after the Internet outrage of him being left out, or if this was always the plan.
Needless to say, though, Leonard Nimoy is confirmed as an older Spock, possibly his last appearance putting on the famous ears. Presumably, this will be handled in some sort of framing device, in which Spock remembers the first mission. It's easy to see why it would be hard to fit Shatner into such a scene: he was killed off in Star Trek: Generations and is now floating around in the Nexus. Still, I suppose they could always schedule the flashback for before that film.
Abrams Has His Spock [Slice of SciFi]
Edit: Thanks for Katie for pointing out that I'm an idiot: it is indeed 'Zachary' and not 'Anthony.' I need a person with a more exhaustive mental encyclopedia to Vulcan Mind Meld with me.
Read More