Yikes! Creepy Virtual Horror Museums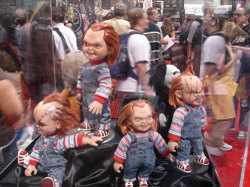 Sheesh. This one will creep you out. Over at Bloody Disgusting, they have what amounts to a virtual horror museum online. Actually, it's from the Sideshow Collectibles display at the San Diego Comic-Con. All those Chucky's will give me nightmares and daymares, I'm sure. Also, I wouldn't want to see the Nosferatu and Frankenstein in a dark alley any time soon.
Of course, this Bloody Disgusting stuff made me search for horror museums in pop culture. Take a gander.
Tussaud's Chamber of Horrors — All the gross heads on a stick on this page remind me of a semi-famous friend's lawn in Woodstock. I can't tell you who it is. Then, my head would be on the lawn, too.
Ripley's Museum — The question is, how and why did this torso become so shrunken? Someone slurped up too many diet drinks.
Terror in the Wax Museum — Sure, it sucked as a horror movie. Then again, it had Elsa Lancaster and Broderick Crawford, two classic actors. That's enough to make me watch. OK, the Jack The Ripper scene in almost scary in this movie produced by Bing Crosby.
House of Wax — You know, any movie that can get the emotionless Paris Hilton to scream is all right by me. Well, kind of all right. And it is the biggest wax museum I've ever seen.
Read More