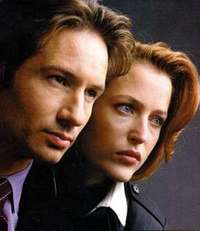 During a press appearance last weekend to promote his new series, David Duchovny — who played the large-schnozzed and overly credulous FBI agent Fox Mulder in the long-running sci-fi series The X-Files — dropped a bone to fans of the show that defined his career: X-Files 2 is being made.
According to Duchovny, he's been in talks with Chris Carter and a script for X-Files 2 has been in development for some time. It will not be a direct sequel to the earlier (and frankly lackluster) 1998 film, but more likely be an epilogue to the completed series.
"Chris has written it with Frank Spotnitz, and Chris will direct it," said Duchovny. "And [Gillian Anderson] is on board, and I'm on board, and that's all I can tell you. I mean, I'm looking forward to seeing what he did."
"Before, I would just say that because they told me," Duchovny said. "But now I've been talking to Chris and he's been giving me progress reports. He actually called yesterday and said next week we should have something."
Hey, I'm on board. Maybe this time, we'll finally get a kiss between Mulder and Scully… that is to say, a kiss that is not immediately followed by Scully keeling over from an allergic reaction to a bee sting.
2nd X-Files pic is close [Hollywood Reporter] (via Forbidden Planet)
Read More