Wolfman's Got Nards… on DVD!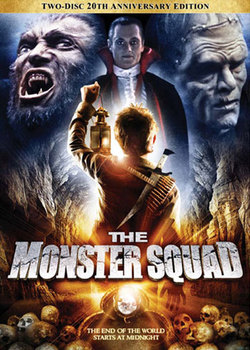 If you were a kid in 1987, chances are good that you were probably listening to Run-DMC in your Walkman, and a fan of those giant robots that are currently setting the box office on fire. One thing you probably weren't doing was going to see Fred Dekker's The Monster Squad, which came at the tail end of a number of kids' adventure movies like The Goonies, and didn't exactly make much noise.
Yet like many under-rated movies, The Monster Squad eventually found its audience on VHS and cable and has grown into a sizable cult hit. Despite countless fan pleas, the film has never been available on DVD. That all changes on July 24 with the release of a new special edition from Lionsgate, complete with extensive supplements, a widescreen transfer, and 5.1 sound. Best of all are a series of new documentaries by our pal Michael Felsher at Red Shirt Pictures, which feature new cast and crew interviews. There's even a trailer for the new DVD with a sampling of some of the extra goodies found therein. Since we know Mike's gonna do a kick-ass job, we encourage you to check it out after the jump!
Read More