To Die For? All The Boys Love Mandy Lane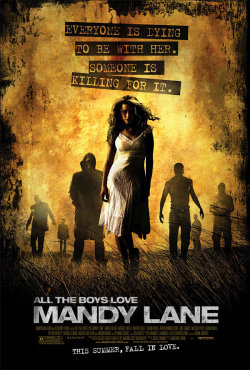 Hot girl + hot boys = hot horror? Maybe not. Why did the Weinstein Brothers and Dimension drop All The Boys Love Mandy Lane? They purchased the movie at last year's Toronto Film Fest. Mandy Lane was supposed to be released this Friday. But there was no promotion of the film at all, except for a trailer that's hit the Web.
Now, according to the Hollywood Reporter, the film will be released by Senator Entertainment. That's a dicey proposition because it's the German company's first theatrical release. While the film seems like nothing that new, I liked the idea that Amber Heard from Hidden Palms stars But as "an idolized high school
student who accompanies five friends on a weekend trip to a
ranch, where each is eliminated by a mysterious killer"? The idea that all these jocky guys want to bed Mandy Lane skeeves me.
So why did Dimension drop the film? Is it because it's is so derivative and exploitative that it sucks?
Here's how the Hollywood Reporter sees it: "Other sources said the company was split internally over
the movie, with chairmen Harvey and Bob Weinstein at
loggerheads over its acquisition. The recent poor performance
of genre film "Grindhouse," released under the company's
Dimension shingle, only exacerbated the situation, sources
said. The Weinstein Co. denied that there were internal
divisions over the movie.
"Also a factor is the recent downturn in the horror movie
market." Senator says they'll release the movie on more than 1,000 screens. Is the downturn in the horror market a fairly permanent thing? Or was there so much arguing in Weinstein-land that the fight to keep All The Boys Love Mandy Lane wasn't worth the trouble?
Read More