The Simpsons Movie: Lots Of Horror Satire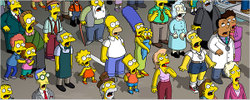 Not only is The Simpsons Movie a total, complete laughfest, it's got some terrific horror movie parodies peppered throughout. Matt Groening loves Halloween: that's why the TV show has had a Treehouse of Horror Halloween special for so many years. Here are a few horror references I caught right away.
1.) In a beautiful and slightly scary wide screen scene, torch-wielding Springfield residents come to burn Homer out of his home — very much like the classic Frankenstein.
2.) I don't know how many dozens of horror films I've seen with monsters that were genetically-altered due to radiation or pollution. Wait 'til you get a gander at the multi-eyed fish. Funny haha and funny strange.
3) The church scene in which horror of the coming days is predicted reminds me of everything from Invasion to Hawthorne's very dark The Minister's Black Veil to Stephen King's Storm of the Century.
Did you catch any more horror references in the movie? (Tip: Can't get enough of Bart and the gang? For more on The Simpsons Movie, check our Future of Classic blog!)
Read More