The Night Fantasia Changed Horror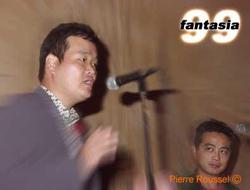 As I prepare to make my annual trip to Montreal for the Fantasia Film Festival (check here for postings all next week), my mind goes back to all of the wonderful times I've had there and the countless number of films I've seen over the years. I usually go for about a week and I'm pretty subject to whatever is playing; I've seen my share of classics and clunkers. But perhaps no single Fantasia screening has been as memorable as the one that occurred on the first night of my first-ever Fantasia in 1999 – the international premiere of Hideo Nakata's original Ringu films.
This was not only my first time at Fantasia, it was also my first time in Canada. Arriving in a strange city that I didn't know added a little bit to the fear factor (even though I was meeting friends). I made it to the Imperial Theater (Fantasia's old stomping grounds), awestruck by the old movie palace decor (it's been refurbished since and isn't as nice). The house was packed for what rumor said was the scariest movie to come around in a long time. The film did not disappoint and there wasn't a single person who wasn't impressed (at least of the ones I spoke to). And once the word from that night began to spread, you knew that this was going to be the start of something pretty major. That single screening, I'm convinced, changed horror film history forever.
You have to keep in mind that back in '99 if you weren't Japanese, you probably hadn't heard of Ringu; Region 2 or 3 DVDs or bootlegs weren't available and Asian horror wasn't really on most folks' radar, so no one really knew what to expect. Though the film was a big hit in Japan, there were no major studios clamoring for remake rights (unlike now) and the film didn't have a U.S. distributor lined up (it never got released here until the U.S. remake was released on DVD). No one there had really seen it or anything like it. I recall thinking it was similar to an episode of The X-Files, but there was also something about it that was fresh and unique.
Ringu (and its sequel, which screened the following night) was taking an old-school approach of scaring by suggestion, but it felt modern in its intensity. I still haven't seen an Asian horror film that's matched it (maybe Kurosawa's Pulse); but to be honest, the excitement of that night has also made it hard to forget. It was the right film at the right time and Fantasia was the right place to show it. The film and its makers (Nakata was in attendance) were treated with tremendous respect by the festival and its audience – so just as Ringu began the J-Horror boom in Asia, Fantasia helped to start it in North America. The market may be cluttered with Asian horror films these days, but back then Ringu was like a breath of fresh air and if it wasn't for Fantasia I'm not sure Asian horror would have been as big as it's been.
Read More