The Descent: Horror Movie or Social Experiment?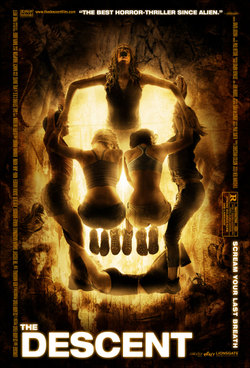 Despite the fact that there were several cave-crawling movies out pretty close to it, The Descent stood out for something more than its Victorian optical illusion inspired ad campaign.
I reckon folks lumped it together with The Cave (and why wouldn't they?) and maybe even The Core (which has my favorite tag line of all time ever – This Summer, the only way out…is in!), but it's one of those sleepers that have got the scholars all essay crazy.
The splatterati are devoting pages to how important the film is for its daring all-female cast, and how they're different from the all-female casts of sorority or slumber party slashpics, because the women aren't doing anything, you know, sexy.
No lesser entity than Amy Villarejo, film professor at Cornell University, will be talking about women in horror movies this Sunday at the Museum of the Moving Image after a screening of The Descent and a little film you may have heard of called The Last House on the Left. The original – on the big screen!
It's that cool (and rare) combo where you can turn your brain off (if you want to) and watch a movie and then turn it back on, way back on, for a post-flick lecture. If you can find your way to Queens, you'll see us there taking notes and eating Twizzlers (but not in that order).
Read More