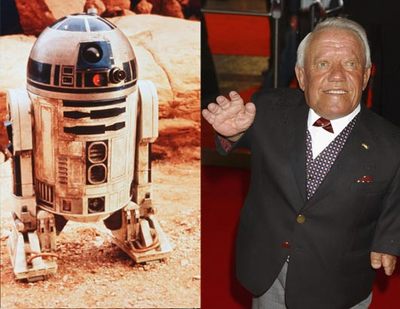 ABC has published a great "where are they now" article contrasting the appearance of the Star Wars actors, then and now. However, it's less a "where are they now" piece than a "what ghastly blemishes, wrinkles and deformities have so ravaged the faces of the icons you once held so dear?"
You can't really blame Mark Hamill for looking like he just crawled out of a gutter, fishing for grimy coins to pay for a box of wine. The motor accident he was in back in the 80's was no picnic, and besides, I like Mark Hamill: he's taken an unexceptional thespian ability marked only by association with the role of Luke Skywalker and somehow managed to bust out of typecasting, becoming a successful and talented voice over artist.
Carrie Fisher and Mark Harrison still look good for their age. Kenny Baker, against all medical odds, is still going strong, even managing to get arrested for driving drunk in recent years. And I especially love Peter Mayhew's look: with his wild hair and crazy eyes, he looks exactly like a shaved Chewbacca.
My only regret? ABC News had a great opportunity be tasteless with their "Where are they now?" entries for Alec Guinness and Peter Cushing.
Star Wars: Where Are They Now? [ABC News]
Read More