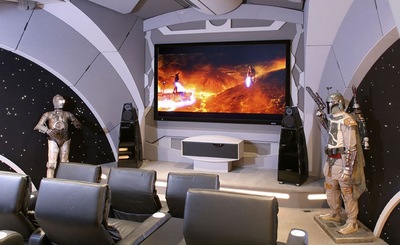 Obsessive sci-fi home decoration is nothing new. After all, with the curtains properly drawn, your home is the only place short of a convention center where you can wander around in your Ensign uniform and not attract shifty stares and the convergence of police officers. A man's home is his castle, so why not turn it into the bridge of the U.S.S. Enterprise if you want to? Or even into the bridge of an Empire star destroyer, perfect for curling up on dreamy romantic nights with your own personal Slave Leia?
My tastes in interior decorating do not run in the direction of the Star Wars aesthetic, being limited as they are to leopard print and porcelain dalmatian end tables. But even I'm impressed by this gorgeous Star Wars themed home theater set-up. If I were invited over, I would less want to watch a movie in that theater than run around madly waving a plastic lightsaber and making swoosh noises with my mouth.
My only complaint is that I think they lost an opportunity when they designed the theater around what I assume is a Star Destroyer motif. Certainly, the black leather and gray carpeting suggest the monochromatic aesthetic of the Galactic Empire. But I'd personally rather kick back and watch a movie on the bridge of the Millennium Falcon.
Star Wars Home Theater [Modern Home Theater, via SF Signal]
Read More