Star Trek: TOS Going HD for DVD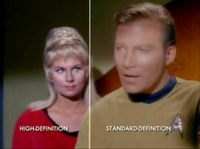 Part of the appeal of the original Star Trek is the go-go uniforms, the sixties schlock, the cheesy sets, the wired cardboard Enterprise. So I was a bit concerned when it was announced that Paramount was intending on remastering the series from the original negatives, redoing the score and inserting CGI effects to bring the look of the series 'up to date.'
I don't think much of the new orchestration — the bizarre extra-terrestrial ululation at the beginning sounds wrong to my ears — but I've been impressed by the relative subtlety of the CGI. It's definitely not bad, and it's a respectful treatment of the original material.
For Star Trek fans who don't mind the new versions and want to watch episodes in HD, good news came out of the San Diego Comic Con: an HD DVD collection of the show remastered with new visual effects and score, will be released on Nov. 20 in a set of 10 double-sided discs.
Better yet, Eugene Roddenberry Jr. seems to have a good take on what they're trying to accomplish:
"When I first heard about remastering Star Trek, I kind of felt like a lot of fans out there thinking, 'Don't touch it,'" Roddenberry said. "I didn't want the 'Star Wars [special edition] effect' to happen to it. But when I found out that Mike and Denise Okuda [Trek series scenic artists] and Dave Rossy [Trek marketing] were going to be involved and had some decision-making power, I felt much better. When I found out it wasn't about changing the scenes—it wasn't about adding content, but taking what was there and just enhancing it and … putting in CG—I thought it was nice. But then I said, 'You have to keep the original DVDs available for the die-hards that don't want the remaster.' So I'm 100 percent behind it."
I just love it when the son of Star Trek's creator manages to get a dig in at George Lucas. All I really want is a franchise cat fight.
Remastered Trek Due On HD DVD [SCI FI Wire]
Read More