Star Trek Casting Rumors Look Unfounded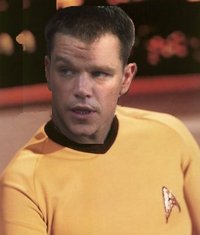 Trekkies — or is it Trekkers? I have lost my handle upon the politically correct nomenclature for them — have been in a tizzy of excitement and horror for the past few months, ever since it was announced that J.J. Abrams was doing a Star Trek reboot/prequel.
Excitement because there's been a lull in Star Trek since the cancellation of the execrable Enterprise. Horror because it is simply impossible to think of other actors in the roles that William Shatner and Leonard Nimoy made famous.
Rumors have naturally swirled about the collective consciousness. Matt Damon was rumored to be Kirk: a bit odd, since he's older than Shat was when he took on the character, and he's far less handsome, but that's all offset by the fact that he is just an incredibly intelligent and powerful actor.
The other rumor is that Zachary Quinto from Heroes was up for Spock. He's got a bit of the look for it, so it makes sense.
However, if the update on Slice of SciFi today is anything to go by, neither of these rumors necessarily look true. Matt Damon has strongly insinuated that he has not been hired for the role, and Quinto seems to merely be speculating that he would love the part, but has insinuated he's not in discussions for it.
We'll know this weekend: they're scheduled to make a big announcement about the new Star Trek film at the San Diego Comic Con.
Star Trek Movie Updates [Slice of SciFi]
Read More