Shivers! John Saul's The Devil's Labyrinth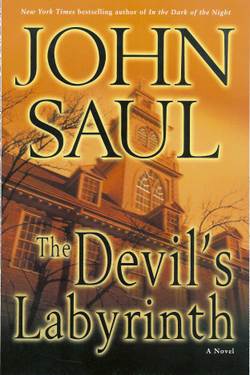 Yesterday, John Saul's hot, new horror novel, The Devil's Labyrinth, came to me by messenger. From the first chapter (in which little kids bury a dead iguana only to find, well, a surprise), Saul slowly and masterfully builds a taut and almost perfect suspense that's rife with terror.
Of course, Saul's no neophyte. He's penned an astonishing 34 novels, even worked on a horror video game adaptation to his serial novel, The Blackstone Chronicles. But where at the movies based on Saul's works? Sure, USA made a film of Cry for the Strangers. But that was back in 1982. I'd love to see the creepy mansion in The Blackstone Chronicles committed to film. And The Devil's Labyrinth, which revolves around an exorcism, takes place in exotic locales and even has The Pope as a character, would probably make a terrific horror film.
John's flown in from Seattle to New York City this week for a bunch of whirlwind meetings with his publisher. I'm going to try to track him down to ask him all about The Devil's Labyrinth in a thoughtful interview for you. And I'll ask why more Saul books haven't seen the big or little screen, too.
Read More