SF Cinematography Loses Laszlo Kovacs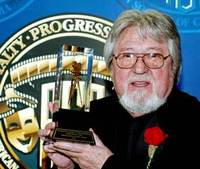 There are many people behind the camera in films who are not often recognized, blurred from recognition by the glow of the coveted director, producer and screenwriter credits, but none is more egregiously overlooked than the cinematographer. After all, they craft the texture of the film.
So we'd be amiss not to report that famed cinematographer Laszlo Kovacs died in his sleep on July 22nd.
Born near Budapest in 1933, he was an imposing genre presence. His sci-fi horror films included: The Incredibly Strange Creatures Who Stopped Living and Became Mixed-Up Zombies!!? (1964), Kiss Me Quick! (1964), Blood of Dracula's Castle (1969), A Reflection of Fear (1973), Close Encounters of the Third Kind (1977). Ghostbusters (1984), Predator (1987), Copycat (1995), Multiplicity (1996), and Jack Frost (1998).
It's hard to know what the quality of a man is by his resume, but he was an important yet silent figure in the sci-fi film community, directly involved in the creation of many classics (and not-so-classics). It is sad that he mostly will not be missed, not for lack of talent, but because most people never realized he was behind the camera.
Read More