Season 4 Doctor Who Changes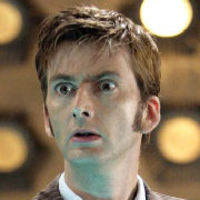 Slice of SciFi has posted a list of the changes we'll be seeing in Season 4 of Doctor Who. For those of you Stateside, these will seem like far off futuristic ramblings, but for those of us who suffered in the British Isles through the execrable series finale, we're looking for any indication that Season 4 might buck the trend of Russell T. Davies' pedestrian plotting.
The big news — and for me, disappointment — is that Freema Agyeman's Martha Jones will be leaving the TARDIS as a full-time companion. Word is she'll pop-in, Jack Harkness style, but otherwise will be joining Torchwood's gang of incompetent hedonistic traitors.
That disappoints me: I really liked Freema. On the other hand, I hated Rose Tyler. I never quite understood why a super-evolved alien would travel across time and space to travel around (and fall in love with!) an ignorant, horse-toothed chav. Freema has spunk and class.
Of course, she's not the only one leaving. Russel T. Davies is stepping down from producing Doctor Who at the end of Season 4, news that is sure to elicit paroxysms of relief. There's also rumors that David Tennant might depart as the Doctor, which would be a shame: he's the best one since Baker, in my mind.
And this news means nothing to me, but not to the Kylie-mad Brits: Kylie Minogue will be starring in the Christmas special.
Doctor Who Series 4 Changes [Slice of SciFi]
Read More