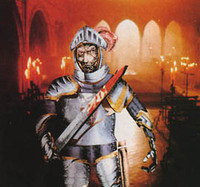 As the uncanny valley precipitously deepens, and as CGI becomes a mature art form, it can be easy to forget exactly how futuristic the first computer animated effects on film actually seemed.
Though Tron's generally cited as the first example of CGI in a film, it has several precedents, pulled off without fanfare in the films of special effects visionaries.
For example, the earliest example of computer generated effects happens in a surprisingly low key film: 1971's The Andromeda Strain has a 2D rotating structure accomplished by CGI in an underground lab.
Additionally, 1976's Futureworld features the computer generated hand and face of none other than the co-founder of Pixar Studios (it's unbelievable how long those guys have been in the game: talk about earning your success). Star Wars also featured 3D animation in the wireframe Death Star model. And I specifically remember my awe when the CGI knight sprang out of stain-glass in the Young Sherlock Holmes.
Click the link below for a fascinating overview of early computer animation. Not surprisingly, almost every one of them occurs in a science fiction or fantasy movie.
Earliest Examples of Computer Animation in Film [Your 3D Source]
Read More