Rotten Tomatoes' Top 100 Sci-Fi Movies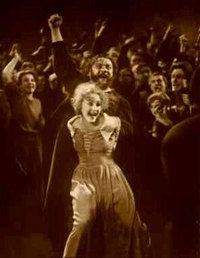 Rotten Tomatoes has released a "countdown" of the top 100 sci-fi films. Unfortunately, you have to sift through each film, one by one, but there's some excellent (and inexplicable) choices on the list sure to inspire a good deal of debate.
This sort of list is debatable in any form, really. Rotten Tomatoes is aggregating their list of "best" sci-fi movies by review scores, which — on the surface — certainly seems more objective than a list made up off the top of the head. And there are certainly some fine science-fiction films in their countdown.
But let's examine their top 10: Aliens, Star Wars, The Host, Children of Men, The Empire Strikes Back, Minority Report, Alien, Metropolis, Eternal Sunshine of the Spotless Mind and E.T..
They're all fine films (Children of Men is a personal favorite of mine), but there's a strange skewing towards more recent films as being higher rated. You'd be hard pressed to find a single sci-fi fan who'd rank Minority Report in their top 10, I think. Eternal Sunshine of the Spotless Mind is another puzzling choice: a great film, but hardly what you'd expect to see on a top 10 list.
I'm edified to see Metropolis there, though. I just wish more black and white sci-fi movies were represented in the top 10. Honestly, the 50's was about as good as it got for sc-fi for another half a century.
Rotten Tomatoes' Journey Through Sci-Fi [Rotten Tomatoes]
Read More