Robbie the Robot: The Alarm Clock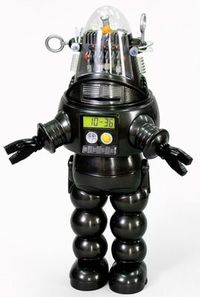 I have always loved Robbie the Robot, plucky mechanical star of Forbidden Planet and The Invisible Boy. He's everything a robot should be: courageous, loyal, retro-futuristic and somewhat bumbling. Unless someone finally invents a promiscuously-programmed Marilyn Monrobot, Robbie is forever tops.
So I'm not afraid to admit I'm geeked out a bit by this wonderful Robbie the Robot bank/alarm clock. Pump a quarter into his mouth and he will say with a dignified mechanical tremble, "Quiet please, I am analyzing." And in the mornings, his eyes begin to glow and he wakes up up with a servile, "Good morning, gentlemen."
That last part is a bit insinuating: I sleep in a bed either alone or with my girlfriend, and I don't really think I like the plurality of men in my bed that Robbie is implying. But no matter, it will just assuage my guilt after I smack him across the room for the impertinence of dragging me from delicious Nod.
Robby the Robot Forbidden Planet Bank [Inventorspot, via SF Signal]
Read More