Plot Foiled! Teens Mimic Horror Movie Murders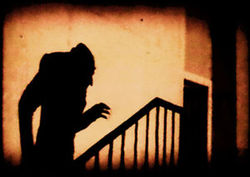 Are you addicted to horror movies? I know I am. But what if the addiction went too far? What if you were the horror movie?
Along those lines, there's an unsettling report in Earthtimes today. Apparently, "Austrian police have arrested three teenage boys aged 15, 16 and 19 who had planned to first rape and then murder a girl in a reenactment of scenes from horror films, local media reported on Tuesday."
It gets uglier. You may not want to read on. But if you do, you've been warned.

Earthtimes continues, "The three young men from Trofaiach in rural Austria admitted they were hooked on horror movies and wanted to wanted to see a person die. The would-be murderers had apparently planned to carry out the crime on Saturday, when they were to meet up with four girls known to to them and select a likely victim."
Makes me wonder what movie or movies these guys were trying to mimic. Hostel, Saw, even Gus Van Sant's Elephant?
Every now and then, people are influenced by pop culture in unseemly ways. I'm a believer that violence in movies, in video games and on TV does not generally beget violence in real life. I know others don't agree with me. I also believe that it's up to parents and teachers to help kids like these stay on track. In any case, it's lucky that the Austrian cops foiled what could have been the Horror Movie Murders.
Read More