Oh, Snap: Depp As Sweeney Todd Poster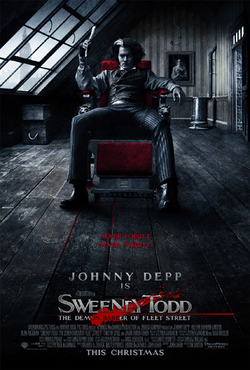 Folks, I don't have much to say about this — except: THIS SWEENEY TODD POSTER IS UTTERLY AMAZING. Johnny Depp is going to be great as Sweeney as is the movie. Thanks, Cinematical for making my day.
See, my greatest theater experience ever was at Sweeney Todd on Broadway last year. Ever since I co-wrote a book about serial killers, the Demon Barber of Fleet Street has held a special place in my heart. I had shivers throughout the performance. I cried, too.
I'm not sure anything could top my third row center seat to see a play where the actors sang and played their own instruments as they acted. Plus, it starred Patti Lupone, Michael Cerveris and the amazing Lauren Molina as the creepy, sad Johanna. But with Depp as the lead, I ask you, is there any other horror movie I need to see this year?
Read More