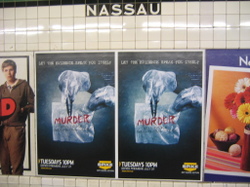 Kind of a fun entry this week in our I See Horror column, a little bit of murder tucked in between the comedy and the flowers. This was taken in a Brooklyn subway. Terrifying! Kind of like a scene from The Light at the End, which totally deserves a film, btw. Make it happen, please.
Back to the pic, there's something kind of cool about the surgical image resting underneath those tiles. It turns the Habitrail into a Hospital for a few moments.
Just a reminder, send your pics of horror in the wild to our monsterfestpics@gmail address. We'll totally publish them. You'll totally be in the internet!
Read More