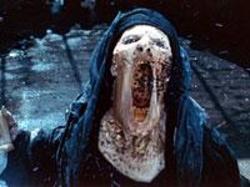 On this grim, pouring-rain morning in Manhattan, I just read in Cinematical that actress Rachel Weisz and director Stephen Sommers won't return for The Mummy 3. Now, replacing Weisz with Maria Bello isn't a bad move. I liked her in A History of Violence, even in ER, back when she a doctor in 25 episodes. And I like the underrated Brendan Fraser as a hero, too.
But, I mean, does this plot line get you going? "In the Far East, trouble-seeking father-and-son duo Rick (Fraser) and
Alex O'Connell (Ford) unearth the mummy of the first Emperor of Qin
(Li) — a shape-shifting entity who was cursed by a wizard (Yeoh)
centuries ago." The remake in 1999 was adventurous in an Indiana Jones way. Though never scary, it was very tolerable. The Mummy Returns (2001) was neither scary nor full of adventure, just a bunch of scenes stolen from great filmmakers. Sequel: Do Not Want! Bury The Mummy. Let the ghouls rest in unexploited peace.
Read More