More Details on Farscape Webisodes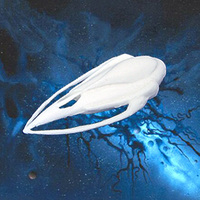 A week ago, The Sci Fi Channel announced that a series of Farscape mini-episodes would be released on the web. The news delighted me: I began slapping my hands together like an excited seal.
Now there's some more news on the webisodes, if by news you mean rumors. According to TV Guide, Brian Henson is claiming that each episode will be between 3-6 minutes, and end in a cliff hanger.
Ben Browder is not necessarily confirmed to return, but his rep says he'd like to if time permits. The big rumor is that the series will focus on John Crichton and Aeryn Sun's child D'Argo and feature an older pilot and Moya. Not sure how I feel about that: Farscape is about John Crichton at the end of the day.
The series still seems a bit indefinite in plot, but I think we can definitely expect some of the puppets back, even if the actors won't return. Unfortunately, the puppets will have to be recreated, since the molded skins will have rotted.
Either way, this is the closest thing to hope Farscape fans have been given in four years. I can't wait.
Farscape Webisode Details [Slice of SciFi]
Read More