Ming the Merciless, Just Misunderstood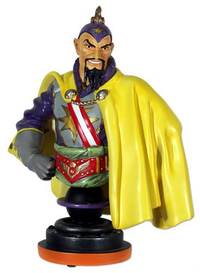 When I heard that the new Flash Gordon series was going to replace the asiatic alien emperor Ming the Merciless with a white blond dude, I was sure it was going to suck. But after a couple of hours crashing about my apartment in an Incredible Hulk like rage, I realized I was being silly: surely a white blond Ming could be just as menacing an antagonist as the Ming I grew up with.
But then I read this interview with John Raiston, the guy who will be playing Ming. And guess what? He doesn't even think Ming the Merciless is evil!
"You have to like your character," Ralston explained." You can't have that other eye going, 'Oh, my God, what an evil person you are.'"
Now, I didn't go to thespian school. But isn't non-judgmentally stepping into the shoes of another person what acting's all about?
Raiston then goes on to talk about how Ming's just a poor sod, a misunderstood father who can't control that wild whelpling of a daughter of his. Is this what Sci Fi is really going to give us as a malevolent cosmic emperor? Ming is sounding more and more like a slightly less evil version of Dagwood.
Flash's Ming Wants Understanding [Sci Fi Wire]
Read More