Meg: The Scary Movie That Won't Happen?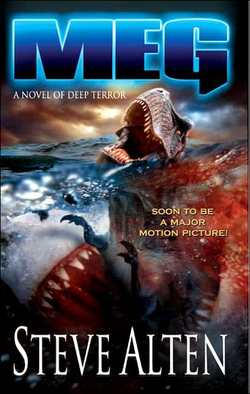 Over at Cinematical, there's a fascinating account regarding the ups and downs of Steve Alten's Meg, a scary shark book that was to become a scary shark movie. Yeh, I know that most books optioned by Hollywood have similar ups and downs.
But the first book in the Meg series is pretty compelling — even has one of those wonderfully addicting first sentences: "From the moment the early fog had begun to lift, they sensed they were being watched."
Great first line or not, making this one into a film has really been a rough ride on the Coney Island Cyclone. Wanna see why Alten is probably taking his Prevacid?
Says Cinematical, "Alten wrote the book Meg
years ago and has babied it into becoming a workable film script ever
since. First, Disney purchased the rights to make the film, then New
Line purchased it from Disney, and as it turns out, New Line really
doesn't want it anymore and will allow their ownership to expire come
October of this year."
"In Alten's announcement, via Moviehole (sic – author himself corrects this in our comments section),
he seems somewhat beaten, declaring that New Line treated the project
like an 'unwanted stepchild,' but his heart is still attached to seeing
his book on the big screen one way or the other. As he says, 'The MEG
movie WILL HAPPEN and it is better to wait and do it right with the
right team than accept mediocrity.'
The whole thing stinks like a dead shark. Heck, on Amazon, the paperback cover says the book will be a new movie from New Line, now a somewhat embarrassing line judging from the facts above. Here's hoping the movie gets made. And here's hoping it's scary and full of terror, a Jaws for the new millennium.
Read More