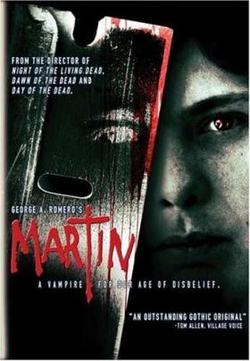 All of the critics at the horror panel I attended at the Museum of the Moving Image last month were united in the belief that most movies are terrible. They're right, of course, but they were also united in their belief that all it takes is one good one every six months, and they're filled with energy and excitement about film and life and love and horror.
It doesn't have to be a new one, just new to them, and there are too many movies you haven't seen for there not to be plenty that are new to you.
My energizing film was Martin, which I caught at a film festival at BAM last year. I could not believe how good it was and how disturbing and how exciting, surprising and, yes, scary.
Here's the pitch: A creepy kid kills because he thinks he's a vampire, but he might really be a vampire, but he might just be a messed up kid who thinks he is, but he might really be.
Cool and suspenseful and innovative and, at times, shocking. A must see. Five out of five hoofprints. Our highest rating. It's playing as part of the It's Only a Movie festival this very Sunday. If you live anywhere in the Northeast, go see it. Take the train or the bus. It will energize you about the possibilities of film and life and love and horror. Oh, it's directed by George Romero and it doesn't have zombies in it. Didn't know he could do that, did you?
Read More