Marilyn Manson In New Horror Epic (With Depp?)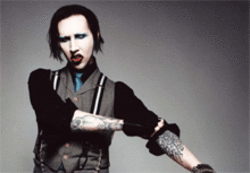 I'm surprised it's taken this long. New Musical Express (NME) is buzzing about Marilyn Manson's Phantasmagoria: The Visions Of Lewis Carroll. A horror film and Manson seems like the perfect storm of horror to me.
Early on, Manson said his pal Johnny Depp would play beside him. But he doesn't say anything like that in the latest NME post.
The stars? Supermodel Lily Cole, Tilda Swinton from The Chronicles of Narnia, and gal pal Evan Rachel Wood. That's a lot of beauty for a horror film.
Want to see why Manson is so keen on playing Carroll? Head for the jump, folks.
Says Manson, "I read Lewis Carroll's
diaries, and he's a very fractured soul. I think I identified with it
more than just fascination; I was in the same mental state. So I think,
by waiting, I'll be able to make a better movie, and I got to make this
record."
The movie should have been in the shooting process, but its has been delayed. Manson says it's due to his touring schedule. But maybe, and just speculating here, it's due to Manson's predilections. In an earlier NME post, it was said that, "Manson plans to employ a
magician to accomplish special effects that would normally be created
with CGI: "I just want to be unconventional by being traditional. I
think by being traditional, sometimes like a Hitchcock , it's almost modern, because people are so used to seeing special effects."
I don't think Manson's a Hitchcock by any means. But I still think this would make a terrific film — if it ever gets made. Billboard says it's going to be shot in the fall. Stay tuned.
Read More