Late Question of the Week – What Do You Collect?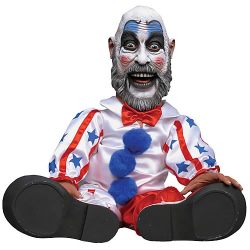 To the left of the text here is an hilarious talking plush Capt. Spaulding doll. He's from House of 1000 Corpses and The Devil's Rejects, natch.
I stumbled across it while looking for news on that new line of horror-themed Aurora Model Kits.
It made me wonder who would buy it and then what other sort of collectible horror merchandise folks buy and display. Beyond DVD's, there's autographs and Colorforms and action figures and comic books and posters and crazy t-shirts for starters.
So, here's our Late Question of the Week:
What sort of horror collectibles do you buy, and where do you display them?
My answer: Lobby cards! I have drawers full of 'em! I have a bunch of them framed and hung on my wall.
Your turn!
I'm totally forming a band called the Lobby Cards, and you can be in it, goatlings!
Read More