Korea's "The Cut" — A Slice Of Death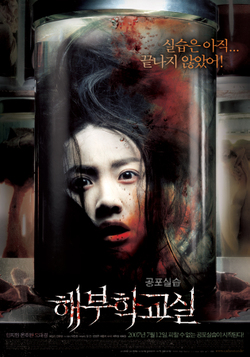 Foreign horror film alert!
Korea Times writer Lee Hyo-won makes me yearn to see The Cut in which a group of med students
dies after cutting up a strange cadaver. Writes Hyo-won, "In a medical school lab, a dissection session goes
terribly off course, with misused surgical knives (scalpels) and of course, an 'undead' cadaver.
"But The Cut is no zombie movie. Rather, it intricately
dissects human fear and fascination with the dead, with hints of necrophilia
looming over the blood-tainted story that blends Western medical practice with
the Eastern concept of the undying, grudge-ridden soul."
OK, the med students are going to die. So how does the director keep the horror
story from going stale?
"All six students are doomed to die in the same place in the
same fashion: screeching noises and mournful cries signal death. However, the
film retains an inherently Asian characteristic, with vengeful souls that evoke
sympathy rather than being purely evil."
"The audience becomes a cadaver as the camera rolls the
viewpoint of a corpse, from being immersed in formalin to being stored in the
freezer. The work also presents haunting images of bloody red rose petals
falling from the sky, and the juxtaposition of youthful beauty with the dark
shadows of death is striking."
But there's a mystery here, for this writer, anyway. I can't find anything about who the director
is and what he's done. And I can't find anything about
distribution in the U.S.for the movie. Maybe someone who's
fluent in Korean could help by reading the links in this article? I want to
know more about The Cut and I have to
see it! Han Ji-min looks like a terrific actress. And the Web site sure is scary.

Read More