Knocked Up: The Fat, Hairy Green Hornet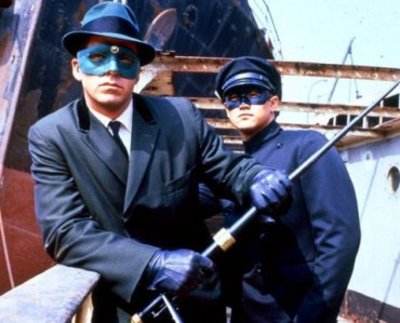 The Los Angeles Times is floating a rather horrifying rumor: that Knocked Up and Freaks and Geeks star Seth Rogen is in final negotiations to write and star in a feature-film version of The Green Hornet for Columbia Pictures.
Don't get me wrong: I love Seth Rogen. He's a precocious young comic, likable, funny and bold. When I wasn't wishing that Linda Cardellini would use my tongue as a g-string, Rogen's character in Freaks and Geeks was my hands-down favorite.
But let's face facts: this is like casting Jack Black as Dick Tracy. Seth Rogen is a hirsute lardo. That's his schtick and his charm. So by casting him, they mean to take the film in the direction of the ironic, smarmy and camp.
That could be okay, I guess. I suppose if there were any character I wouldn't mind being given the gag treatment, it's the Green Hornet, a rather inconsequential Batman rip-off set apart from the pack only because Bruce Lee played Kato.
But there's the rub, isn't it: who is going to play Kato? Who can possibly step into Bruce Lee's shoes? Jet Li's the only one I can think of, and surely he has better things to do.
Rogen To Write, Star In Hornet? [Sci-Fi]
Read More