July 4th Horrors: William Lustig's Uncle Sam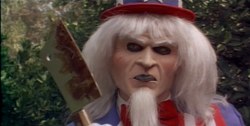 Most people don't see the 4th of July as a horror holiday unless they have an accident with fireworks. But don't forget that the holiday marks the beginning of a violent and bloody revolution.
One person who seems to understand this is prolific writer/director Larry Cohen, the man who brought us mutant babies with It's Alive and winged serpents flying over Manhattan in Q. For his 1997 all-American horror effort Uncle Sam, he recruited his Maniac Cop director William Lustig to help him tell the tale of a Gulf War One vet (killed by friendly fire) who comes back from the dead to terrorize his family and kill unpatriotic Americans, like draft-dodgers, flag burners, and corrupt politicians.
What's interesting about Uncle Sam is that the film was made in '96, a couple of years after the first Gulf War at a time when extreme patriotism wasn't in vogue. Watching it now, it looks like Lustig and Cohen were a little ahead of the curve in making their Uncle Sam a crazed maniac who kills those who offend his vision of America. This gives the movie a bit more of an edge than it had ten years ago, but it still isn't all that scary and after a while, the joke wears off.
But you've got to give the always clever (and always liberal) Cohen credit for doing a satire on the dark side of patriotism. You don't have to agree with him, but it's also one of the very few horror movies set on the 4th of July and the sight of a killer dressed up like Uncle Sam is certainly amusing. It may not be the greatest horror movie to be set on America's birthday, but it's the only one we've got.
Read More