July 4th Horrors: Joe Dante's Homecoming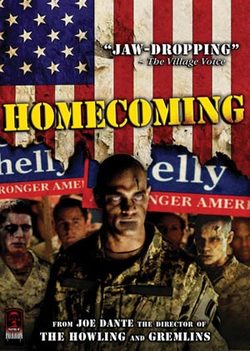 Horror movies sometimes become powerful metaphors for political subjects, perhaps unintentionally. But Gremlins director Joe Dante certainly knows what he's doing when he takes on the War in Iraq in his Masters of Horror DVD, Homecoming.
Adapted from Dale Bailey's story "Death and Suffrage," Homecoming tells the story of U.S. soldiers who, in a manner of speaking, have returned from Iraq. And, it turns out, that's not all they've returned from.
In the movie, a shifty political consultant (Jon Tenny, in an excellent performance) exploits his brother's death in Vietnam, using it to defend the current administration's policies. Tenny claims that if his brother were still alive, he'd vote for the (unnamed) sitting president. But Tenny is soon proven wrong when the bodies of recently killed American soldiers come back to life — not to eat people but to vote against the president.
Considering that Dante's brilliant Gremlins 2: The New Batch is one of the most vicious satires of America's consumer culture, it's no surprise to see him produce such a clever anti-war message with Homecoming — a film that shows free speech has not been zombified.
Read More