I See Horror in Unexpected Places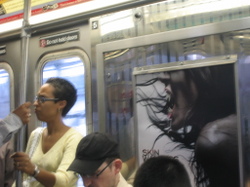 As promised, here's a snapshot of one of the Skinwalkers posters on the NYC subway.
We thought it might be a cool idea if our readers, that's you, goatlings, might send us photos from time to time of horror posters or images in their natural setting. You know, bus stops, billboards and stuff in your hometown.
We're not set up yet to have you embed them as comments, and who knows what you would put there if allowed free reign! Shudder! Go ahead and mail your pics to monsterfestpics@gmail.com and we'll post the best.
One horror poster pic is worth one thousand terrifying words in the Necronomicon! Click below to see what happened when these folks turned around.
Photos by Todd Ravenface (but soon by you).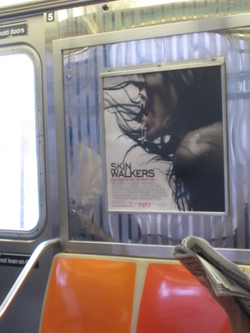 They fled its dread presence!
Read More