I Know Who Killed Lindsay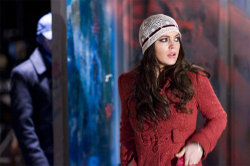 This weekend's horror opening is I Know Who Killed Me, starring, as we know, Lindsay Lohan. The film is being sold as a thriller, but it seems to have more horror elements than most people realize. After all, Lohan's character loses both an arm and a leg (don't worry, it's not a major plot point, so I'm not giving anything away).
Recent events involving the star, of course, are overshadowing the film. Despite the fact that the only review found online, thus far (it isn't even being screened for critics), is a positive review from Fangoria, it seems like most people checking out I Know Who Killed Me will either be Lohan's die-hard fans or those seeking cheap laughs at her expense.
I wasn't a fan of director Chris Sivertson's previous film, The Lost, but when the wolves are out in force as they are for I Know Who Killed Me, I can't help but get defensive. Lohan's an easy target these days, but she's also a good actress: she was good in Mean Girls, Freaky Friday and held her own in A Prairie Home Companion against none other than Meryl Streep. My friend Kim Morgan wrote up a fine, passionate defense of Ms. Lohan at MSN last weekend (before her current troubles) and got a rather rabid response from the haters out there. I think I Know Who Killed Me is a step in the right direction for Lindsay. It would be nice to get a late summer surprise.
Read More