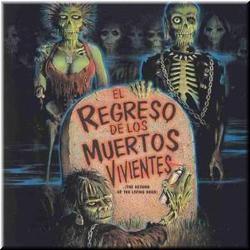 So, there are few moments as memorable as the graveyard dance scene in Return of the Living Dead unless you count everything else in Return of the Living Dead (and even then, it's a tie).
The Lord of the Dance, of course, was scream queen legend, HRM Linnea Quigley. She's a dream-get for our video series. Maybe we can make it happen.
She apparently did a crazy Horror Workout Video in the '80s, and if anyone has a link to any footage from that (YouTube hath failed!) they will get a high hoofprint from us (that's our highest rating!).
Check out her site and re-rent RotLD. It's sort of the secret zombie-engine, you know. Its sense of humor and cries of "braaaaiiiins," are what folks think of first when they think of zombie pics. It's true.
Send more cops! Ok, YouTube and I are cool again.
Read More