Horror News Roundup: The Mysterious "Cloverfield"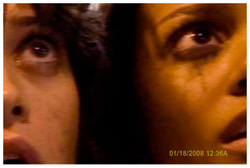 J.J. Abrahms' super-secretive giant monster project Cloverfield (which may not be the actual title) comes out in the open in a trailer attached to Transformers, and a website. The rumored release date is January 18, but we still have not seen any shots of the monster itself. Didn't we go through all this about 10 years ago?
Rob Zombie's Halloween is undergoing extensive reshoots that will make the film even more violent, apparently adding six new deaths. Meanwhile, the soundtrack listing has been announced, and you'll be pleased to know that it features "Tom Sawyer" by Rush. Nice to see a little respect being tossed to Geddy and the boys.
Red, the latest Jack Ketcham adaptation, has finished shooting, but without original director Lucky McKee. After what happened with The Woods , it seems like the guy just can't catch a break.
Some very cool classic DVD news includes the release of Vincent Price and Roger Corman box sets from MGM, and new horror and sci-fi monster sets from Universal – all in time for Halloween and for me to declare bankruptcy.
The new killer kid thriller, Joshua, opened today to mixed reviews, with some really strong notices in the mix; the good ones never get complete raves out of the gate.
Finally, if you're going to be in the U.K. next month, the producers of the new zombie epic The Zombie Diaries are looking to break the world's record for the largest zombie walk. The fact that we live in a world where you can have a world record for such a thing is scary and amusing.
Read More