Horror Hound Caption Fun Hour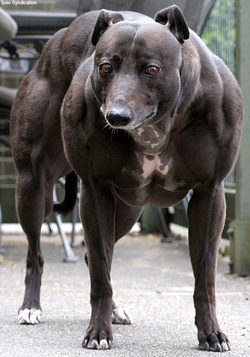 This pic comes courtesy of this article from the entertaining site with the schoolyard name of who-sucks.com. Inspiration, perhaps for some kind of virus or super soldier serum flick?
It's pure 50's horror movie material for sure where the bad-guy was always "science".
Maybe he can take on the Death Cat from last week.
So, what are some horror-movie poster taglines for this pic of a pugnacious pup?
My entry: Terror can make it to the fence in three seconds, can you?
Do better than that.
Read More