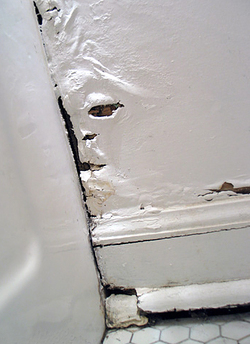 This legitimately terrifying photo comes to us from goatling Kimberley Lindbergs, who happens also to maintain the excellent movie blog cinebeats.com
She writes:
Hello!
I really enjoy the Monsterfest Blog and couldn't resist
sending in this photo I took of my water damaged bathroom for the "I
See Horror" feature. Thankfully my apartment manager fixed the damage,
but for awhile it looked like a creepy monster face was coming through
my bathroom wall.
Cheers!
Kimberley Lindbergs
Cheers indeed, Kimberley, this is too frightening for me to make the usual sort of a"peel"ing type joke I might make. I hope you repainted.
Keep those pics coming in to monsterfestpics@gmail.com
The I See Horror feature is ongoing, but our Horror Do's and Don'ts topic changes each week. Hooray for us!
Read More