Holy Klingons! Star Trek vs. Batman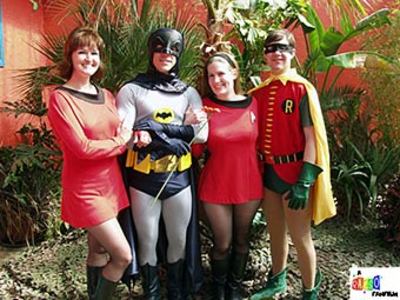 The crew of the USS Enterprise is well known for their wacky inter-dimensional time traveling adventures. There was that episode where they went to the 1960's, I think, and I'm pretty sure they also ended up on Nazi world once. And let's not forget the Enterprise's thoughtful time-traveling adventure in Star Trek IV to help us save the whales.
So it is perhaps unsurprising that a previously unknown adventure in time has suddenly come to light: Star Trek vs. Batman.
Racso Films has put together this wonderfully schlocky lost 'episode', filmed in the wonderfully retro style of both the 60's Batman and Star Trek series. It's about as pulp, campy and amateurish as you'd expect, but for winning sci-fi/camp mash-ups, this one takes the cake.
Star Trek Vs. Batman [Official Site]
Read More