Heroes Graphic Novel Coming Soon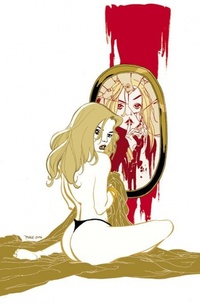 Mouth-foaming fans of NBC's Heroes are already acquainted with the comic book vignettes (or webcomics) that appeared on the official website last season. 43 separate comics were released, by artists like Michael Turner, Marcus To, Mitch Gunnell and Phil Jimenez.
It was a lovely bit of fan-service to comic book fans, and now NBC — in collaboration with DC Comics — intends on releasing all 43 webcomics in a hardcover graphic novel collection. The collected volume will also feature new covers by Alex Ross and Jim Lee.
For me, though, the big temptation is new art by Tim Sale, whose gorgeous paintings (described in the linked article as "prophetic and apocalyptic," a wonderfully accurate turn of phrase) are liberally sprinkled through the show. Sale is an immense talent and my only regret is that he won't be doing an entire Heroes graphic novel by himself.
But I'm going to keep my fingers crossed. There's plenty of opportunities down the road if Heroes continues to be the break-out hit that it has proven itself to be over the course of the last year.
Graphic novel captures 'Heroes' [USA Today]
Read More