Grim Reaper Cat: Make Your Own Horror Plot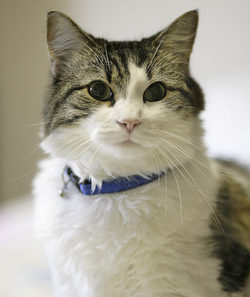 Yesterday, the news was full of reports about an amazing and creepy cat who seems to know when people in a nursing home are going to die. I saw Oscar the cat on Drudge and later in the night on the NBC Nightly News. He was everywhere.
When the end is nigh, he'll jump on the bed of some elderly person and stay there until the world goes black. Doctors think that a person's smell may be different when he or she is about to give up the ghost, and that's what's attracting Oscar. Me, I think he's the Reaper Cat. Anyway, this black and white feline isn't your usual lovable purr pal. In fact, he's a little surly — perhaps from the weight of death. For proof, look at the photo. You wouldn't want to mess with Oscar.
I mean, this nugget of news could be the genesis a great horror movie script, don't you think? Here's how.
His personality and death-sniffing ways makes me think he's the Grim Reaper in disguise. What
if the Reaper Cat doesn't comfort the dying. What if he actually kills people by sleeping next to them? And
what is the origin of the Reaper Cat? Is he the devil? Is he a
witch's familiar? Is he condemned to a cat's form but really the
creepiest Grim Reaper ever, one who has to kill to rediscover his former
ugly, skeletal, monstrous self? How would doctors and patients stop Reaper Cat?
What would your Reaper Cat plot entail?
Let me know if you're not too busy.
Read More