Goodnight, Sweet Prince: Ingmar Bergman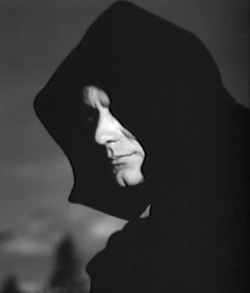 I cannot let the passing of Ingmar Bergman, one of the greatest filmmakers of all time, go by without mention. While his work may not appeal to mainstream American audiences, Bergman helped, even if unintentionally, re-invent the art of the horror film and is more than deserving of respect.
Here are two essential Bergman films that influenced horror movie makers that all horror fans should see:
1) The Seventh Seal, Bergman's most famous film (which was parodied in Bill & Ted's Bogus Journey),
is about a knight (Max Von Sydow) who returns to a plague-ridden
countryside from the Crusades only to find death waiting for him.
2) The Virgin Spring (which was recently issued as a Criterion Collection DVD)
starring Von Sydow (a Bergman regular), is about the brutal rape and
murder of an innocent young girl. The killers unknowingly seek shelter
at the home of the girl's family, who then plot revenge. If the plot
sounds familiar, it's because the film was Wes Craven's influence for Last House on the Left.
Read More