George Romero's Letter to The Fans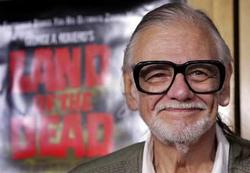 While you were out celebrating Independence Day enjoying fireworks and rock 'em sock 'em robots, I checked my e-mail. Granted, this is nothing new, but yesterday's e-mail was something special, since it came from none other than George A. Romero. OK, George Romero didn't actually send an e-mail to me, he sent it to Harry Knowles of Ain't It Cool News, but he addressed it to all his fans, of which I happen to be one. And let me tell you, the news from George was good. Here's what he said:
Hi, guys,

Lemme tell ya about Diary of the Dead. I love it. It's the first film since my original Night of the Living Dead that I can say is completely my own.

I've been trying to work under-the-radar, with no hype or press, but lately I've started hearing all kinds of shit about "What's goin' on with Romero?" "What's with his new film?"

Gimme a break over here! I'm up in Toronto workin' my ass off, making Diary the best it can be. Truth is, I'm having a blast. I've gone home to the kind of filmmaking that I used to do, back in the day.

Diary is a hundred percent independent, made with my partner, Peter Grunwald, and our new friends at Artfire. I haven't had this much freedom since 1968. The cast, of what film critics will probably call "unknowns" (they won't be for long) is, in my opinion, f-ckin' great.

This one comes from my heart. It's not a sequel or a remake. It's a whole new beginning for the dead.

Thanks to all of you who are out there waiting and wondering. You guys, the fans, have always kept me going. Now Diary's keeping me going, night, dawn, and day.

I love this movie. I hope you will, too. I'll be back here from time to time to keep you posted. Stay tuned.

Stay scared.

George A. Romero
Now, I don't really know George Romero personally, but he is a truly independent filmmaker who speaks his mind freely and won't shill just to sell tickets. (He'll sell those tickets to us anyway.) In fact, I'd actually heard from one or two people in the know that George is happy with the way things were progressing on Diary of The Dead
The next question is when will the film have its premiere? Four of the biggest festivals — Telluride, Toronto, Venice, and New York — will be announcing their selections soon. Romero has never had much film festival play, although Land Of The Dead got a ritzy launch party in Cannes two years ago. But will the new Romero film be premiering alongside the new Wes Anderson and David Cronenberg films? Will it just get shunted over to the midnight spot or get a big push? I don't know, but I can't wait to find out.
I still have a lot of love and respect for George and his films, and I'm excitied to see this one.
Read More