Futurama Film Gets Release Date and Plot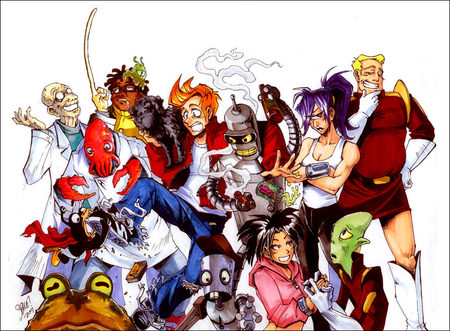 You know, people often say The Simpsons is the most sharply written satire of our time. I never understand this pronouncement: it's like I live in a world where everyone is stuck in 1994, approximately the last year The Simpsons was sharply written anything. I often find myself wishing they'd cancelled the show then, so I could always remember the show fondly.
On the other hand, Groening's other show, Futurama? A masterpiece, cancelled long before its time. And while The Simpsons Movie is getting all the attention lately, Groening and Co. have been quietly working on a series of 4 Futurama films for sometime. And for me, the most exciting thing to come out of Comic Con this weekend was the announcement of the first film's release date: November 27th.
According to Cinematical, this will be the plot of the film:
Alien nudist Internet scammers attempt to take over Earth through a plot that involves sending the robot Bender through time to steal the planet's cultural treasures.
I'm just going to end this post here, so you can mull that over for a bit. "Alien nudist Internet what?"
Plot Details on the First 'Futurama' Movie! [Cinematical, image credit]
Read More