Frank R. Paul, The Father of Modern SF Illustration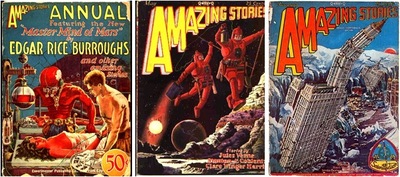 One of my pet passions is early pulp science-fiction magazine covers. There's just something so exhilarating about the garish splash of four color on glossy paper. The splendid scenes pulp covers reveal — tentacles aliens advancing upon platinum blondes, rocket men hurtling through the stratosphere, robots versus dinosaurs, and tripods conquering cities — are the stuff of fever dreams for the 10 year old within me.
One of the masters of the art form of sci-fi pulp art was Frank R. Paul, widely recognized as the Father of Modern SF Illustration. Although he studied architecture in Vienna, Paris and New York, Paul turned to science fiction illustration when Amazing Stories editor Hugo Gemsback discovered him in 1914.
Over his career, Paul produced over 200 covers. This quote from the Encyclopedia of Science Fiction concisely summarizes the staying power of his images:
FRP's style shows his architectural training; his cities and technology are lovingly detailed, his aliens well thought out and plausible, but his human figures stiff and simplistic. His colours were bright (almost garish, even for the period) and flat, and he liked pure reds and yellows, particularly as backgrounds (although this was partly due to Gernsback's meanness in using three- rather than four-colour printing). It seems odd to associate primitive art with sf, but FRP was in his technological way, just as much a primitive as Grandma Moses (1860-1961) and, like her, had an authentic naive poetry to his work. The brightness of colour throughout the pulp-magazine era of sf was a direct result of FRP's influence.
Most of the artists who worked in SF pulp covers go virtually unrecognized: their works rot along with the cheap pulp pages. But Frank R. Paul's name deserves to live on.
Frank R. Paul Gallery [Frankwu.com, via Coudal]
Read More