Fantasia Wrap-Up: Murder Party Slays 'Em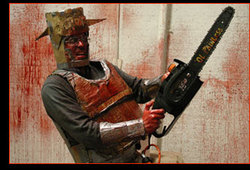 The 2007 edition of the Fantasia Film Festival ended with Chris Stapp and Matt Heath's hilarious stuntman comedy The Devil Dared Me To and Uwe Boll's button-pushing comedy Postal, which isn't as funny. There was also a bomb scare that closed some things down for an hour Friday night, but the festival show went on, proving that only thing that scares the crowd here are the movies.
Speaking of bombs (a cheap segue, I know), Jeremy Kasten's remake of Hershell Gordan Lewis' The Wizard of Gore receives points for trying but simply doesn't pull it all together. Attempting to turn Lewis' flimsy excuse for gore into a noir-ish whodunit, with amateur detective Kip Pardue investigating mysterious magician Crispin Glover, the film suffers from a serious lack of direction and a confusing plotline, though it is well cast and Glover steals the film.
The movie was also upstaged by the
short that showed before it, Richard Gale's Criticized, about a filmmaker's revenge on a critic.
Another winner was Murder Party, an example of low-budget horror done with style, imagination and wit. More of a bloody dark comedy than a horror film Murder Party finds traffic cop Chris Sharp invited to the title event, unaware that he's the murder part of the event. I don't want to give away too much, so I'll just compliment writer/director Jeremy Saulnier and his cast for new and unexpected twists and a fast pace that keeps the audience off-balance throughout. Murder Party, which won the audience award at Slamdance this year, certainly won over tFantasia, too; check this winner out at all costs. (It's screening as part of the Rooftop Films series next weekend in Brooklyn.)
So once again, another great year at Fantasia; kudos to Mitch Davis, Pierre Corbeil, King Wei-Chu, Tony Timpone, Karim Hussien, Simon Laperriere, Phillipe Spurrelle, and the one and only Daniel Walther for putting on such an awesome show.
Read More