Fantasia: The Last Winter is Frighteningly Real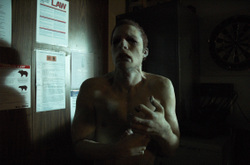 Monday turned out to be a day light on horror for me at Fantasia, despite the world premiere of Jean Rollin's new film (with the director in attendance), which I did not attend simply because it was playing without English subtitles (Montreal is a French-speaking city, after all). While checking out the Korean hostage drama A Bloody Aria and the fine Chinese battle epic A Battle Of Wits, my only slice of horror for the day was Larry Fessenden's The Last Winter, and it turned out to be a satisfying slice indeed.
Last week I said filmmakers need to make more horror relevant to the actual horrors in the world today. The Last Winter fits the bill. It's an intelligent — but still scary — horror movie about … climate change. There have been "Earth revolts against man" horror films, from The Last Wave to Day of the Animals, but The Last Winter is as up to date on the subject as you can get, and it is unfortunately more frightening because of that.
Set in an Alaskan oil drilling outpost, the film pits the drilling crew (lead by Ron Pearlman) and a small team of environmentalists (led by James Le Gros) against the planet itself, as changes in the environment drive everyone mad or truly bring about the last winter.
Though Fessenden presents all sides of the global warming argument,
it's pretty obvious where he stands, but the film is not preachy. Viewers looking for shocks will find plenty, all the while getting a lot to think about and discuss when it's over.
(Also check out Fessenden's global warming website, Running Out of Road.)
Read More