Fantasia Report: Asian Horror So Not Dead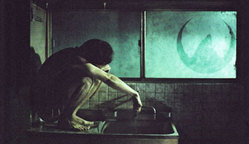 Anyone who tells you that Asian horror is on its way out obviously isn't attending Fantasia this year.
I caught Shinya Tsukamoto's Nightmare Detective and the Thai film The Victim and am happy to report that even most of the Asian genre directors have recognized that Asian horror films have started to look a bit alike and need to do something different.
I would love to site The Victim's
big twist that occurs halfway through as an example, but to do so would
give away its charms. Prior to that the film seems like it's going to
follow along many of the Asian horror guidelines of an innocent girl
(an aspiring actress hired by police to play the victim in crime scene
re-creations) mixed up with ghosts. Then something really interesting happens,
something that says, these guys have watched a lot of Thai horror
films, too, and are looking to stand out. What they do takes a lot of chutzpah and I
applaud them for it. But then Victim becomes two ghost stories
in one, neither quite satisfying enough to make the cut.
What's different with Nightmare Detective (and what makes it a better film) is simply the talent behind it, Tsukamoto himself, one of the pioneers in Asian horror. His Tetsuo films were among the standouts of the early 90s video trading boom and remain classics to this day, and he's provided such intriguing films as Gemini (which screened at Fantasia in 2000) in the years since. Nightmare Detective is about someone who can enter the nightmares of others to capture a serial killer (played by the director) who is making his victim all look like suicides.
The nightmare scenes are crazed and disoriented and unsettling. Outside the nightmare world, however, the movie becomes a somewhat routine cop movie — with Tsukamoto's crazed touches.
Read More