Fantasia Report: Don't Pay To See The Ferryman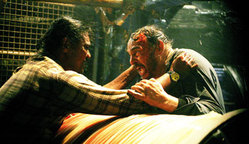 One of the upsides to the festival scene is getting the opportunity to check out films that you might have missed at previous festivals or skipping films you saw elsewhere. The bulk of Tuesday's highlights were films I either saw or missed at last November's American Film Market, such as the anthology film Trapped Ashes, Johnnie To's magnificent action film Exiled (see it!), and the New Zealand horror flick The Ferryman, which I missed there. Having seen Ashes before and not really looking to see it again (two of the segments, a bizarre tale about killer breast implants directed by Ken Russell and a Stanley Kubrick tribute directed by Monte Hellman, are standouts, while the rest don't deliver any thrills), so I grabbed dinner with Fantasia programmer and longtime friend Mitch Davis before checking out Exiled for the 4th time (I love that movie).
I bring up Mitch because of an interesting debate that came up afterwards regarding the evening's final show, The Ferryman; if you read Mitch's write-up on the Fantasia website (click on the link), he talks about how the film is about relationships and how character-oriented it is. He says the horror comes from the fact that each character is put through a psychological torture and that's where it's intensity comes from, making it much more unsettling than the usually horror film. I love Mitch dearly, but to this I say: bollocks! I'm not saying Mitch is wrong in his assessment, but The Ferryman simply isn't good enough to aspire to this level of quality. It's a silly little body switching horror movie, one that gets more chuckles than shocks and I never once got what Mitch was talking about. But hey, that's what makes horse races.
Plot wise, The Ferryman is about a group of tourist on a Yacht to Fiji who come across an abandoned fishing vessel in a mysterious fog. Its sole survivor (John Rhys Davis) turns out to be an evil spirit who can jump from body to body in an effort to cheat death. So as pretty much every person on board gets possessed, the spirit of the ferryman takes this opportunity to inflict both mental and physical pain on his victims by exploiting their weaknesses and their relationships. It sounds slightly more interesting than it is, but to me this is just another one of those films where a killer just won't shut up before actually doing the killing. I also didn't think it did enough with the whole body-switching aspect to make it scary or to buy the premise, just another case of why should I care?
That said, I didn't completely hate The Ferryman; I liked the actors (though poor Kerry Fox, a great New Zealand actress, is straddled with a hopeless part here), thought there were some nice directorial touches and visuals, and there were some great old New Zealand rocks songs on the soundtrack, though they came up at some incredibly inopportune moments (Chris DeBurg's "Don't Pay The Ferryman" gets a speed metal cover during the end credits). The Ferryman is due to hit DVD later this year and maybe some of you will like it and agree with Mitch, but I just thought it was silly. I mean, if a movie expect you to be scared by a hot blond in lingerie, I don't really think it's doing its job.
Read More