Fantasia Report: Death Note Strikes The Right Chord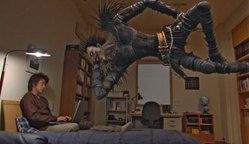 OK, let me get something off my chest before I begin: I had originally planned to post about Mulberry St., the acclaimed new indie shocker that's been getting great festival buzz and that I had planned to go see upon my arrival in Montreal. But my train arrived 2 1/2 hours late and it was out of the question, so I took this opportunity to grab some food with pals and instead attended a notorious Montreal social club that has the same name as a certain 1963 Elizabeth Taylor movie. And I don't mind saying that I saw a few scary things there, along with a few lovely things, too. But hey, that's Fantasia for ya!
My plans for Sunday were to sit my butt down at Concordia University's Hall theater all day Sunday for an entire day's worth of movies, and I had no trouble sticking to that plan. The afternoon was to be packed with Susuke Kaneko's Death Note films, Death Note and Death Note: The Last Name, two of the biggest Japanese hits of 2006. Everyone who'd seen the films already had told me the exact same thing: If you like the first film, you're going to want to see the second, because it ends on a cliffhanger, and darned if they weren't right, because the Death Note saga, while not 100% perfect, is still an impressive piece of storytelling from Kaneko, the kiaju master who made the superb revisionist Gamera trilogy of the 1990s.
J-Horror has brought us cursed videotapes, creepy kids, a haunted internet and now it brings us an evil… notebook? Doesn't sound scary, but when violent criminals and corrupt politicians begin dropping dead from mysterious heart attacks, no one can explain how. We realize it because of the mysterious notebook that's fallen (literally) into the hands of law student Tatsuya Fujiwara. Turns out, all he has to do is write anyone's name in the book and the method of their death and it happens in a matter of seconds. The police are baffled at the deaths, while the public debates about what happened. Many believe this mysterious stranger is a hero and others a menace. This starts a chase between Fujiwara and the mysterious "L", a master detective on the case.
Based on a Manga and a series of videogames (I hereby declare Death Note the first good movie based on a videogame), Death Note packs a lot into a seemingly ordinary J-Horror package: debate about the death penalty and the right to life, police surveillance, and the public perception of murder. It does this wisely, making it just part of the story and not the entire story itself. Ultimately it's a cat and mouse chase between two smart adversaries, with the addition of the supernatural element that makes it even more interesting. While the second film starts with some wicked black humor and looks like it might end up surpassing the first film, it becomes too plot heavy and repetitive. Still, this story worked so well for so long , it's easy to recommend and is certainly Kaneko's best work outside of his kiaju films.
Also scoring points is the Spanish-made The Backwoods, one of those "it's not really horror but it's pretty intense and violent" pieces that can squeak by on a horror blog. Starring Gary Oldman and Paddy Constantine, it's a Straw Dogs-ish tale of a group of British tourist in the Spanish wilderness who come across an abandoned feral child and find themselves up against the inbred hicks (hey, they really are inbred hicks!) who want her back. It's a solid, beautifully shot, piece all around, with another excellent performance from Oldman to help keep it together.
Read More